There are 4 things your website visitors are looking for when they land on your homepage:
1. SERVICE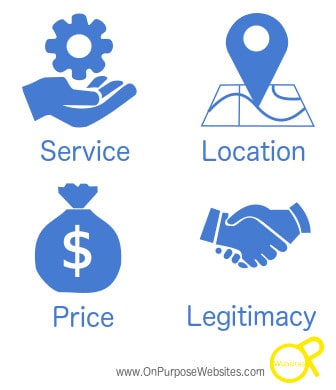 Do you provide the service they need?
If they can't easily find the service they're after, they will go somewhere else.
Example: If you're a dentist, somewhere on your homepage needs to list the most popular services you provide (checkups, fillings etc.)
2. LOCATION
Are you close to your website visitors location?
You really have no control over this, but if your address/location is not listed
on your homepage, even those who are close to you will probably start looking elsewhere.
3. PRICE
Is your price meeting expectations?
The fact is that most businesses don't list prices on their websites. Your website visitors just want to know how much it will cost them. You don't even have to be the cheapest!
If you don't list prices for your services then website visitors will keep browsing until they find a business which does.
4. LEGITIMACY
Does your website give your visitors the impression that you are a legitimate business?
Here's where many (many) businesses/websites fail.
Your website is the first point of contact for most of your new customers. If you can show your website visitors a sense of professionalism through how your information is delivered through your website, you're well on your way to getting that new client.