An article published on February 8, 2018, on the Google Security Blog is abundantly clear. Google want the web to be a more secure place, and are advocating that all websites adopt HTTPS encryption. to coincide with the next release of their Chrome browser, as of June 30, 2018, any website that does not have HTTPS encryption will display a "not secure warning" to the websites visitor.
Only website visitors who attempt to view the non-encrypted website via the Google Chrome browser will get the not secure warning message. However, all browsers will continue to give this message to visitors – as the are currently.
What is HTTPS?
Essentially, is it an encryption that allows sensitive information to be sent/received between the website and the visitor in safety, without the fear that this information will fall into the wrong hands.
If you're not already aware, you can very quickly tell if the website you're visiting – or your own website – is safe and secure.
Check the address bar while on your website and look for either the green padlock, or the "https://" before the URL. If you can see these, you can rest easy in the knowledge that your website is safe for your visitors to browse, and your visitors will not receive the not secure warning.

What Will Happen if I Choose Not to Adopt HTTPS?
The choice really is yours. You are 100% free to decide whether or not you adopt HTTPS for your website, and in reality the only thing that will change is that your visitors (only the ones using Google Chrome) will be given a not secure warning before landing on your website. You can view this warning below: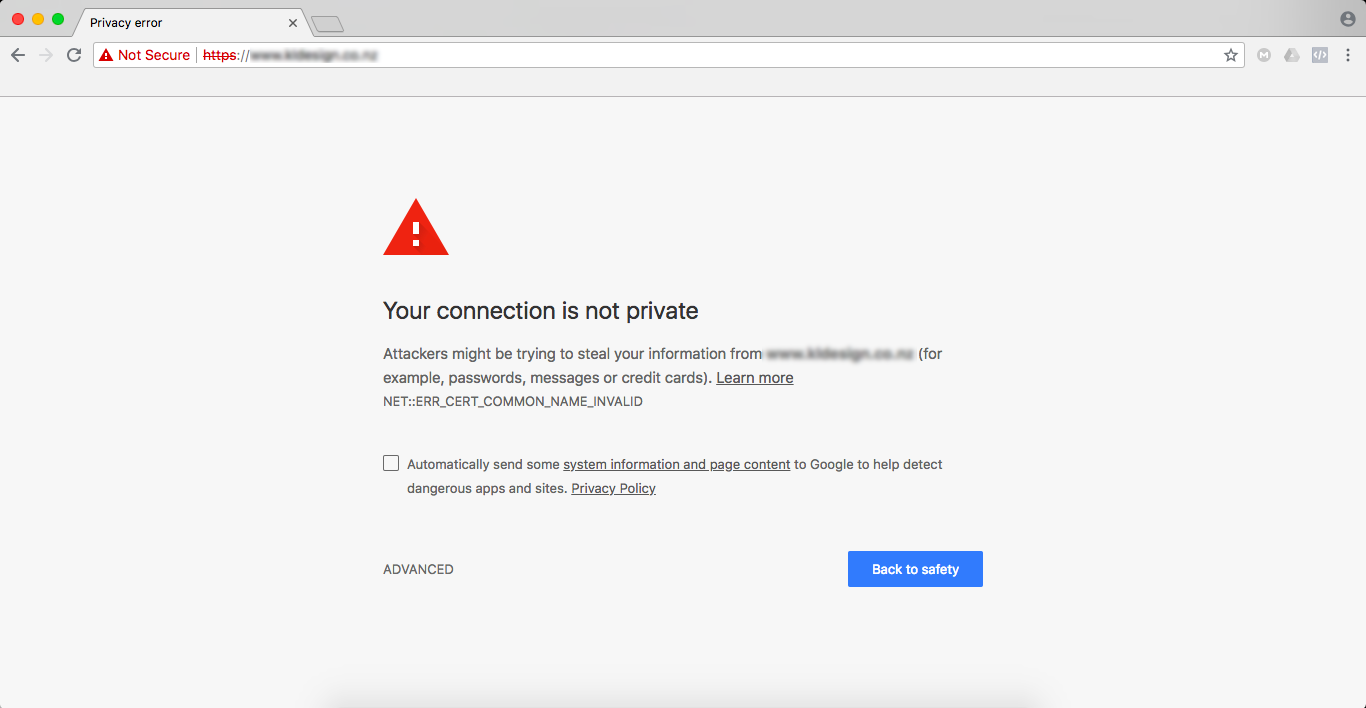 What would your first thought be when you want to go to a website and you're presented with this screen?
• Virus?
• Potentially a porn site?
• Hacker?
• a scam of some kind?
The point is, if you're presented with this screen, would you think it's worth visiting the website behind it? and/or would you place your trust in a business that has this screen as the first screen of their website?

But if it only impacts people who browse on Google Chrome, who cares?
Good point!
According to netmarketshare.com, Google Chrome only accounts for around 60% of all web browsing…
This means that there is a high chance that as of June 30th 2018, around 60% of your website visitors will be hit with a not secure warning when they attempt to view your website. 60% of your customers who are likely to think exactly what you think of when you see the above warning.
"oh, S**T, I'm not trusting that website again"
When you consider that Safari browser (all mac devices use safari – including iPad's and iPhone's) is used by only 3.72% of internet users, your chances of sending the wrong message to your customers – or potential customers – is incredibly high.
How do I Make Sure my Website is Secure & Doesn't Display a Not Secure Warning?
Great question!
If you have the technical "know-how" to get this implemented yourself, it's a relatively pain free process.
If you don't know how to get this done yourself, we would recommend contacting us immediately to make sure you're ready to go BEFORE June 30 2018. After this date, every day you're not adopting HTTPS, you're sending the wrong message to your customers, and have a very high chance that you will be losing money.
Email us at [email protected] to get your website HTTPS secure immediately