As per Google's own Official News, it began the roll-out of its new "Mobile First Indexing" on March 26th, 2018. This means Google is going mobile friendly. "Responsive" websites have become more of a standard fixture for any business who wants to give their visitors a nice user experience. But Google have come out and said that just because a website is responsive, it isn't automatically "mobile friendly".
The SEO Game Is Changing
Traditionally, Google has indexed the desktop version of each website and produced search results to its users based mainly on the information contained on the website and/or page. In the past, if the website and/or page had good quality information that the searcher was looking for, it would be ranked according to Google's algorithm and come up in results for internet browsers to click on.
Google have announced that they are taking this one step further and changing their method of producing search results to favor websites that are now "mobile friendly".
What does this mean?
Essentially, Google want to give their customers (anyone who uses Google to search for websites) what they want and they have discovered that while 51% of internet browsing is done via mobile devices, a whopping 60%+ of internet searches are done via a mobile device.
To continue to give their customers what they want, Google need to give a higher search rank to websites that are "mobile friendly" because the majority of Googles customers (and therefore your customers) are looking for mobile friendly websites.
Google have stated that:
We continue to have one single index that we use for serving search results. We do not have a "mobile-first index" that's separate from our main index.
Which means that they don't separate search results based on mobile and desktop versions of websites, as many people assumed they do.
What Does This Look Like?
GOOGLE SEARCH >>> Crawl Mobile Version of Website >>> Determines Ranking for Mobile AND Desktop

>>> No Mobile Version> >>> Crawl Desktop Version >>> Determine Rank
Essentially, Google looks for the mobile version of your website first and will rank based on it's previous methods (more or less). However, if no mobile friendly version of your website is found, Google will crawl the desktop version and then determine the rank, taking into consideration the fact that your site is not in the format that Googles customers (anyone who searches via Google) is after.
The desktop only version will get a lower rank.
With this confirmation, Google are saying that both the desktop only, and mobile friendly, websites are competing for the same space in search results, but now Google will begin to give a higher priority to websites that are mobile friendly.
To put it another way:
You could take 2 similar websites in any industry, one being mobile friendly (rank #300), and one not (rank #290).
If these 2 websites were currently ranked next to each other in search results, it is entirely plausible that the mobile friendly website could leap-frog the desktop site and move up the google ranks (for example from #300 to #199). While at the same time, the desktop only version could, in theory, drop significantly in rank to make way for lower ranked websites that are mobile friendly.
In theory, this is an opportunity for lesser known websites to gain a much higher ranking and gain more traffic, simply because they are already mobile friendly.
However, it is also conceivable that websites that are not optimized for mobiles could drop off anyone's radar due to a loss in search ranking.

F.A.Q
What Does This Mean For My Business?
If your websites is not considered by Google to be mobile friendly, it is highly possible your search ranking will drop significantly
When Will This Happen?
It has already started to be put in place, as of March 26, 2018.
How Will I Know if My Website is Added to the New Index?
Google is notifying all websites that have been migrated to the new mobile-first indexing via their Search Console
You will see something similar to the screenshot below once you have been added.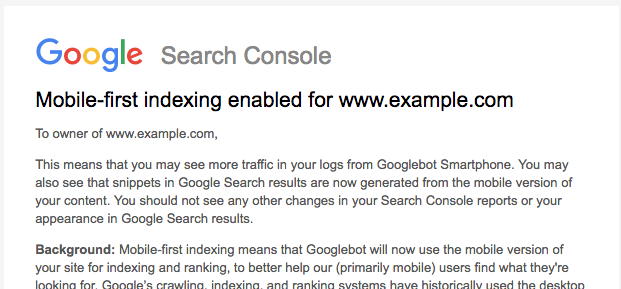 What is "Search Console"?
Google Search Console is an admin area for all website owners to help them have some control over how their site is found online.
If Vision Digital created, or re-designed, your website this information was included in your final information pdf, along with usernames and passwords.
How Will I Know if my Website Will be Negatively Effected?
You can take a simple test that Google have set up for this very purpose.
Simply go to https://search.google.com/test/mobile-friendly
Type in your website address and it will tell you if you are mobile friendly or not.
I've Taken the Mobile Freindly Test, Now What?
Your next steps depend entirely on the outcome of the test.
Your Website IS Mobile Friendly:
Click the little link on the testing page that says "Submit to Google"
This will notify Google to add your site to the new index and get you ranked higher, faster
Website is NOT Mobile Friendly:
Get in touch with us by emailing [email protected] and we can get your website mobile friendly straight away.
The faster you get on to this the better for you. Otherwise you could be looking at losing your Google rank