Placing good anti-spam security on your website will result in a decrease in unsolicited emails. However, beefing up your anti-spam security on your website doesn't stop all unwanted emails. It is important to learn how to spot an email scam, as many scammers won't fill out your contact forms, but will go to great lengths to make their emails look like the types of emails you get from legitimate companies.
Check out the video we have put together about this topic on our Youtube channel
Often, your email address will be listed somewhere (most likely listed on your domain name information) and "bad people" will use this information to send out emails to try and either sell you something, or worse..
To highlight this, we thought we would show you an email we received overnight, that upon first view looked legitimate. But was actually sent in the hope that we would click the link within the email.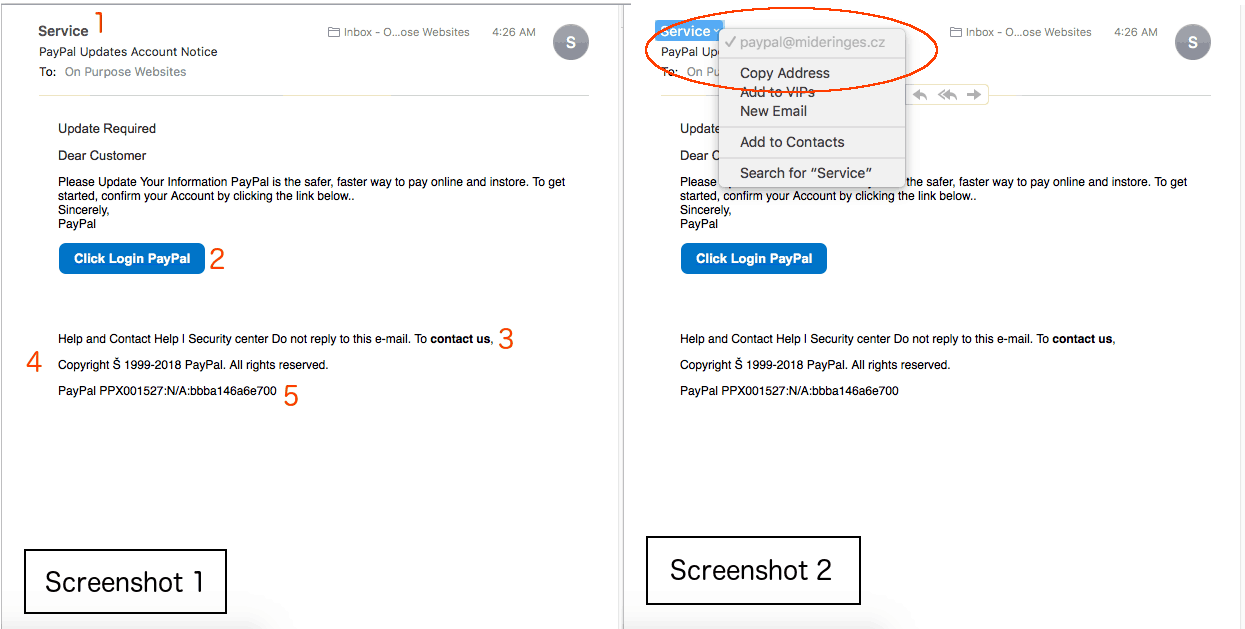 We have attached an image of 2 screenshots we took of this email to show what this email looked like and to help guide you through the warning signs we spotted when inspecting the email closer.
We have added the red numbers and the image titles in the bottom left corners
As you can see, on first glance, the email looks to be from PayPal, requesting us to update our account information.
By chance, we actually do have a PayPal account, so this email could be real.
We needed to check the following before we clicked any links (red numbers):
1. This email was sent from "Service" which was a little odd, as this should say "PayPal"
So we clicked on this name to reveal the email address (screenshot 2) and found that the domain this email was sent from was "mideringes .cz"
This set off alarm bells because all PayPal correspondence should be sent from an email address ending in "paypal.com".
After noticing this, we looked a little further into the email to check for any other giveaway signs that this was a scam email. The numbers in red are what we found:
2. Broken English on the button
3. The sentence says do not reply to this email, but provides a link to contact them. Usually an email will be listed to reply to.
4. The s-looking symbol shouldn't be in this sentence and looks to be an error that hasn't transposed well from the writing of the content through to the delivery of the email.
5. This "PayPal code" seems legit but is totally made up.
The tricky thing about this is that none knows their PayPal code or PayPal key, so it could be right. But it's not.
So, moral of the story…
Don't click links in emails just because the subject says it's from a reputable company, and if you have any doubts, check the email address that it was sent from. This is usually the biggest giveaway that the email is a scam.