With over 50% of all websites being built on WordPress, more and more people are jumping on board and using the worlds most popular CMS. In 2019 we will be going through a series of articles that help explain WordPress basics in more detail.
In this post we will go through the set up of your WordPress site. More specifically, we will look at the dashboard, user settings, and general settings.


Dashboard:
Your WordPress dashboard is the first part of your new WordPress site you will see when you log in to the "backend" or admin area.
The dashboard gives you access to all management features for your website, and has quick access links to help you get to the right part of your admin area with very little hassle.
The layout of your dashboard is such that you can manipulate this to suit how you work.
There is a "Screen Options" tab that allows you to decide which information boxes will show on your dashboard (these boxes will keep updating depending on what plugins you add/remove in the future).

You can drag and drop each information box to organise it all into a layout that is easy for you to read.
Each information box is collapsible and expandable so if you want to be able to access the information, but don't want it to show every time you are viewing your dashboard, you can collapse the box.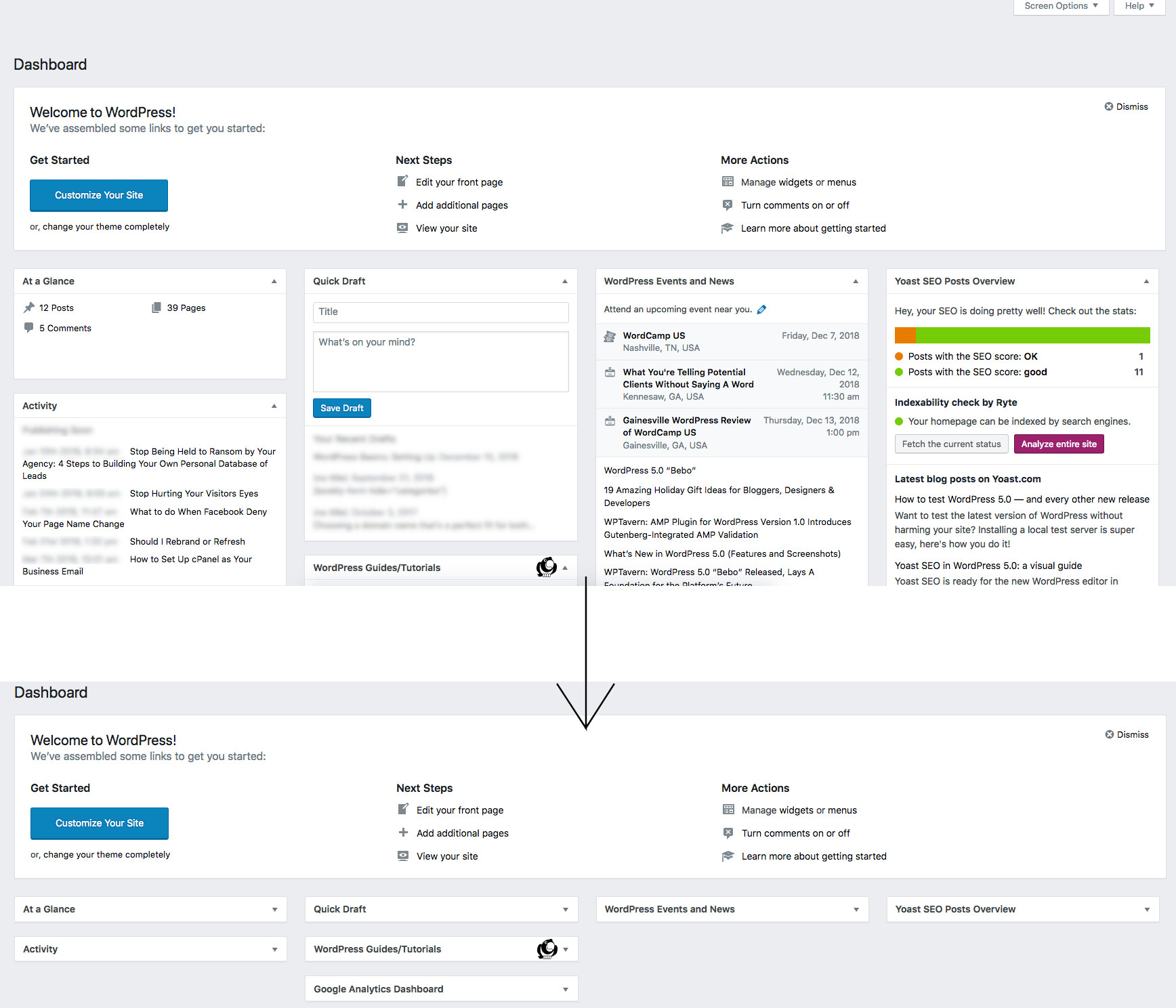 Off to the left hand side of your dashboard is your admin (backend) navigation menu.
This will take you to every individual setting and plugin that helps to run your WordPress website. When you hover over each menu item, the sub menu will also display. This is how you navigate your way through to everything from adding a new post, to editing the code behind your website.

Users:
Found between the "Plugins" and "Tools" navigation option on your admin area sidebar, this option lets you add/remove/manage settings for all users on your website.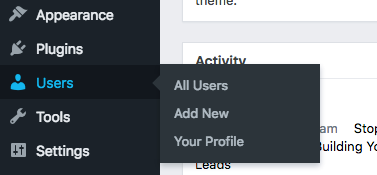 All users
Here is a list of all the users connected with your WordPress website.
This area will list all users and let you know at a glance what permissions they have on the website.
You can also add users in the area by clicking the "Add New" button.
Add New
This option is very self explanatory. Simply add the details of the individual you wish to give access to your WordPress website.
The great thing about this is that it allows you to give different people differing control permissions.
For Example:
If you want to allow a colleague access to make some website edits, but don't want them to have control over what pages/posts are added and/or deleted, you can set this person up as an "Author"
Below is an infographic WPBeginner have put together to show all of the different permissions and what they have access to.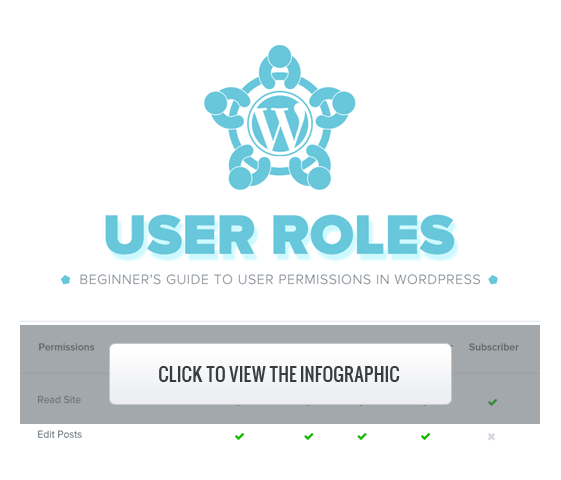 Your Profile
This option allows for the signed in user to manage and maintain their profile settings and details.
The most important part here is that this is where you can edit your login settings.
Your username displays here, but is unchangeable. Once a username is set, you can not modify this at all. The only possible way to modify this is to create a new user for yourself, log in to test that it is working and then delete the user profile with the old username.
Under "Your Profile" you can modify settings such as:
First Name
Last Name
Nickname
Email address
Website
Social profiles
Biographical Information
Profile Picture (can only be changed through opening an account with Gravatar)
This is also where you can change your password to log in to your WordPress admin area.
Click the "Generate Password" button and enter a new password.
If WordPress determines that your chosen password is weak, you will be provided with a checkbox to click to "confirm use of weak password" – see image below

Settings:
When it comes to your settings, there are many different sub menu items, and this will continue to be added to, depending on what/how many plugins you have on your website.
We will focus on General, Writing, Reading, Discussion, and Permalinks settings.

General
These settings dictate the basic preferences for your website default settings on a whole. Things like time and date format, timezone, and language. These are all important to set as scheduling blog posts and many other functions rely on this information to be accurate.

Site Title and Tagline
If you don't do any custom coding, these will show up on your homepage by default, so it's important to get these right.

WordPress Address & Site Address
This communicates with your web host and needs to be accurate for your website to function correctly. Typically, they don't need to be tampered with unless you have an SSL certificate. In which case, you will need to update the "http://" to "https://"

Email Address
This is your website admins default email address. Any contact plugin will typically use this address to send contact form submissions t by default.

Membership & New User Role
Only check this membership box if you know what you're doing, or you want your website to be taken over strangers.
The new user role defines the default permission given to each new user. If setting up new users manually, this won't matter too much However, if you have a membership site, you will need to set this quite low as each new member on your site gets given set permissions and you want to make sure you don't give everyone the wrong access.

Writing
The only settings you want to focus on here are the default post category and default post format, and even then , this is only if you intend on running a blog as part of your website.

Reading
These settings determine how your website is viewed by the public.
Again, most important if you intend on having a blog as part of your website, but the first option is hugely important for everyone.
Your Homepage Displays
This dictates how your homepage displays to the public. If your website is just a blog, then choose the "your latest posts" option.  However, if you have a business website and want a more professional homepage, you will need to choose the "A static homepage" option, and then choose what page you would like to use as your homepage.

Blog Pages Show At Most
This number determines how many blogposts appear on each page of your blogroll. If you have a large number of blog posts, instead of forcing your visitors to endlessly scroll through the entire lot, you can define how many posts per page before asking your visitors to click on to the next page of posts.

Discussion
These settings define how your website reacts to comments left on your blog posts. If you don't have a bog, you can ignore all of this.
As these are mostly preferences and will differ for each individual, we will just make some quick notes on these settings.

Default Article Settings
Be careful about checking the option "Allow link notifications from other blogs (pingbacks and trackbacks) on new articles", as doing so will often result in an influx of spam comments.

Comment Blacklist
Over time, it is best practice to continue to add to the list of words, addresses etc. that you wish to block. You will, from time to time, get spam comments. Use these to fill this area. There are some great resources online from people who have already spent a lot of time working on their own comment blacklist and provide this for free for others to copy. Our has a number of words, and even single characters from other languages, as neither us nor our clients are going to be likely to understand what is being said if a comment is in a foreign language.

Permalinks
The only comment we will make here is that the most accepted way to structure your permalinks (the URL of each page and blog post) is to have yourdomainname.com/page-title or /post-name.
This also helps a lot with SEO.
The options you have under this setting are for defaults, so you can manually change your URL's later, but it's much better and easier to set a preferred default here so you don't have to worry about it later.
If you need any further help or have any WordPress related questions, leave a comment below.