With over 50% of all websites being built on WordPress, more and more people are jumping on board and using the world's most popular CMS. This is the third in a series of articles that help explain WordPress basics in more detail.
In this post we will look at themes, child themes, and editor settings.

Themes
Every WordPress website has a "theme" that it is built on.
The theme is a pre-built foundation for your website that dictate how your website acts, behaves, and looks once up and running.
Themes have been developed by third parties and are available to use for free, however most do have "premium" versions you can pay for which allow you access to more features.
Your theme is responsible for the foundation colours, the layout, and how your website looks when on smaller screens. It is also responsible for your menu and navigation style. Essentially, it determines the look and feel of your website.
There are literally thousands of themes to choose from within the theme library, and each WordPress website is given a default theme upon install.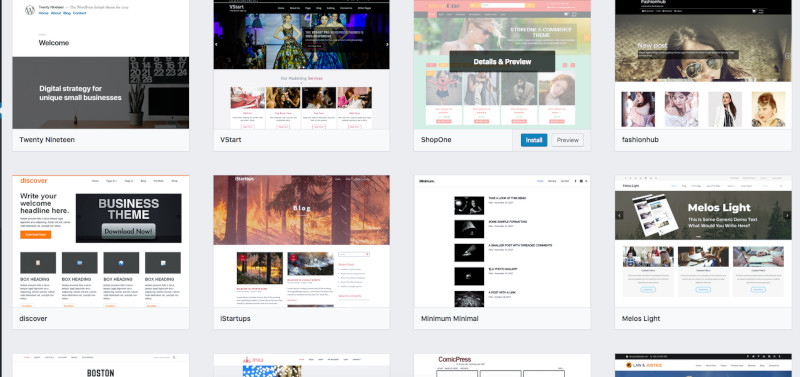 To access and/or change your theme, hover your mouse over "Appearance" on the left hand side menu bar and click "Themes".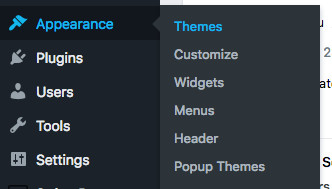 Editor Settings
Some of the time (most of the time) you will decide that the theme you have chosen isn't suitable. It has the foundations of what you're after with regards to look and feel, but you worry that your website will look like thousands others out there because you're just using the same theme.
In this case you can either edit to themes code, or hire someone else to do so, to re-style it and make it more your own. This process is done through the editor settings.
To access the editor, hover your mouse over "Appearance" on the left hand side menu bar and click "Editor".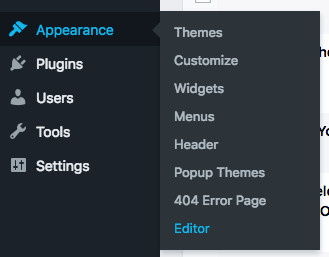 As of writing this article, WordPress have recently included a function that automatically brings up a warning box when your enter the theme editor. This is because this code determines how your website operates. If you get this code wrong, it is possible to crash your website. Obviously, no one wants that, so be careful.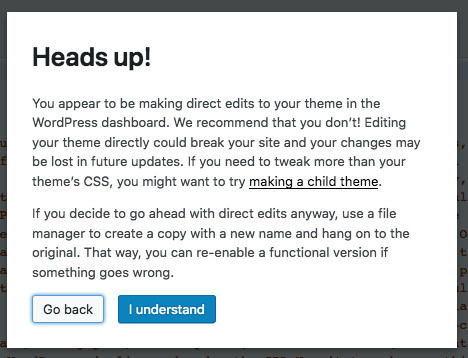 The Editor settings contain your main style editor which determines the look and feel of your website. This is where you can code in what fonts, colours, size of text, size of reading area etc.
This is a large amount of code called CSS (Cascading Style Sheets) and modifying this code is unlikely to "crash" your site. However, due to the large amount of code in this area, if you make a mistake and significantly change the look of your website, it can be quite troublesome to fix your error.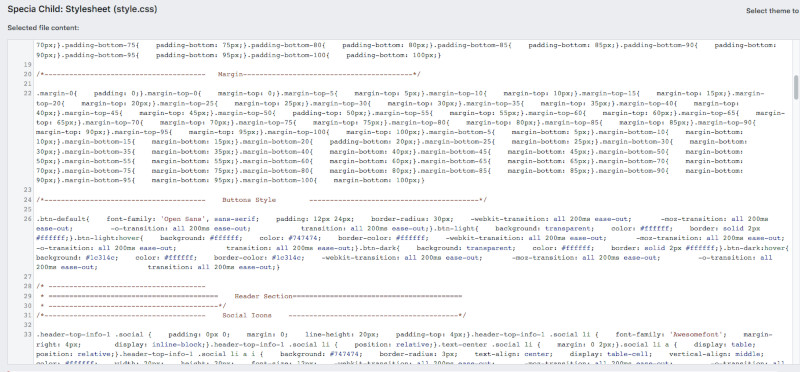 Off to the right hand side of the editor section you will see a heading titles "Theme Files". This is where all of the theme function files (.php files) are contained.

PHP coded files determine how your website behaves. These files are incredibly important to the functionality of your website and it is very easy to crash your website by changing these files (or modifying the code within in) if you don't know what you're doing.
Luckily, WordPress introduced a feature that no longer allows the editor to update any .php file if it is detected that the changes will cause a site error.
Child Theme
When people have gone through the trouble of editing a themes files to try and customize their website, they have often encountered problem when they update their theme.
From time to time, theme creators will release a new update to their themes. This can be for many reasons, but the main concern is security. As technology advances, and hackers become more sophisticated, theme creators will fix potential security holes in their theme to make sure their users aren't attacked. When this happens, and a new update is released, it is always recommended to update your theme.
However…
When updating your theme, it resets all of the previous files within the theme. If you have made any changes to these files to customize your website design, then updating your theme resets all of these changes and you will find that your website looks nothing like how you want it.
There are only 2 ways to combat this.
The first is to re-code your styles through the editor every time you make an update.
The second is to create a child theme.
A child theme allows you to make changes to any specific files from the "parent" theme and keep these files the way you want them, while pulling the rest of the information from the parent theme.
This allows you to keep your style changes while also updated your theme and keeping it secure.
To create a child theme, you will need to download a "child theme" plugin and follow the instructions.
Once created, make sure you are using the child theme by going to Appearances → Themes and then finding the child theme you just created (it usually has the word "child" in the name). Once you have found this child theme, make sure it has been "activated".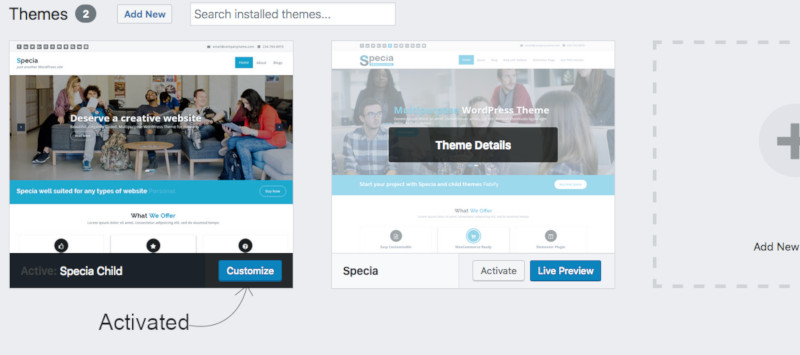 Once you have activated your child theme, you can then go into the editor and begin to make changes to the code. Once in the editor, make sure you are editing the correct theme by clicking the drop down box and selecting your child theme.

If you need any further help or have any WordPress related questions, leave a comment below and we will make sure to reply.